Earth-Informed Insights to Future Proof Your Supply Chain
Build consumer trust and increase operational efficiencies throughout your supply chain
ESG solutions to propel your Net Zero goals
Many consumer packaged goods (CPG) companies have risen to the call for better ESG practices and are leading the charge by setting ambitious environmental and sustainability goals. Yet, many technologies built to support and measure these goals can only see a single piece of the bigger picture.
In contrast, geospatial technology leverages full-scale Earth observation imagery and applies the latest deep learning models to give companies a robust view of their environmental impacts. Descartes Labs offers a full suite of solutions, allowing consumer goods companies complete oversight across their sustainability metrics.
Need help making sense of sustainability regulations?
Let us help you find the right solution to comply with government mandates around sustainability, supply chain transparency, deforestation, and more.
Guiding companies to overcome the biggest hurdles for ESG
Choosing the right technology
ESG technology to future-proof your business
Choosing the right technology is an important step in your ESG strategy. The right solutions go beyond data collection and provide insights that help you move faster toward ESG goals, understand your ecological footprint, and reduce financial and reputational risk.
Descartes Labs' full suite of solutions can adapt to the changing demands of ESG regulators and business stakeholders. Our solutions not only provide analytics but insights to help assess current performance, track progress against targets, and benchmark performance.
Let us show you how our ESG solutions align to help you mitigate deforestation, carbon emissions, and climate impacts, and encourage biodiversity as well as improve steps along your supply chain.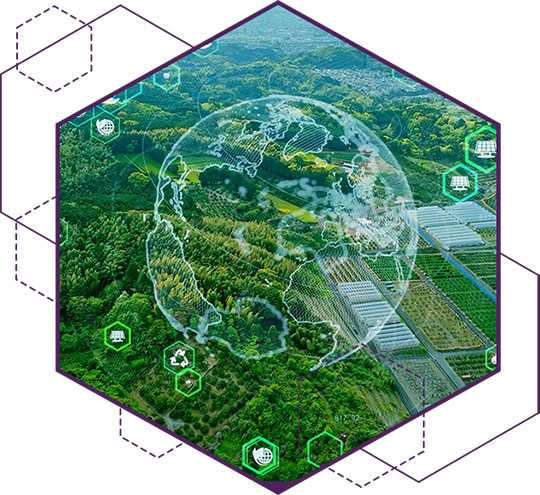 Understanding the ESG regulations
Abiding ESG regulations for a sustainable business
ESG regulations affect your business investment opportunities, including materials sourcing and production throughout the entire supply chain.

Descartes Labs will be your partner to help you meet evolving regulations such as the EU Deforestation Regulation around commodities, and offer transparency in disclosing information about your ESG policies, risks, impacts and performance at both the company and product level.
Your complete supply chain solution, from sustainability through pricing and logistics.
Talk to an expert to learn how Descartes Labs can grow your business.