Accelerating Solutions Across the Entire Mining Value Chain
Drive actionable insights with geology-led, data-driven solutions
Monitor instability at critical infrastructure
Increase safety by remotely monitoring ground stability
Infrastructure management is a major concern for mine operations, as companies risk large financial and reputational repercussions for failing to accurately monitor critical sites for safety concerns.
As pressure from governments and the public mounts to ensure these sites are stable, mining operations must adopt new technologies that allow near-real time monitoring and better transparency.
Global Interferometric Synthetic Aperture Radar (InSAR) provides mining companies with an automated alerting system that is continuously monitoring their tailings dams, mine pit walls, and underground mines for the smallest subsidence events.
Continuously monitor critical assets with the Global Deformation System
Learn how automated, global InSAR monitoring acts like a magnifying glass to detect and surface abnormalities experienced at key infrastructure.
Boost operational efficiency
Feasibility studies and consulting
Ensure the best monitoring solution for your assets by working closely with our team of InSAR experts. We will conduct feasibility studies on all your areas of interest, managed or unmanaged, to determine which imagery resolution is best. After initial analysis, we will also advise on the need for corner reflectors.
Multi-modal and high-resolution data integration
Eliminate the headache of working with synthetic aperture radar (SAR) data at scale with robust pipelines and access to specialized derived data products. Unlock the full potential of your data by working closely with our scientists to ingest and optimize your own historical or ground-based data.
Our InSAR solutions can also act as a tip-and-cue mechanism to signal the need for higher resolution collects. High resolution data can also also be licensed and ingested into the Platform.
Fully transparent solutions for rapid prototyping
Industry-leading data pipelines and automated preprocessing capabilities allow for rapid prototyping and provide a scalable solution to monitor all assets consistently. The analysis is fully transparent and can be made available for programmatic and geotechnical interpretation and interrogation in real time.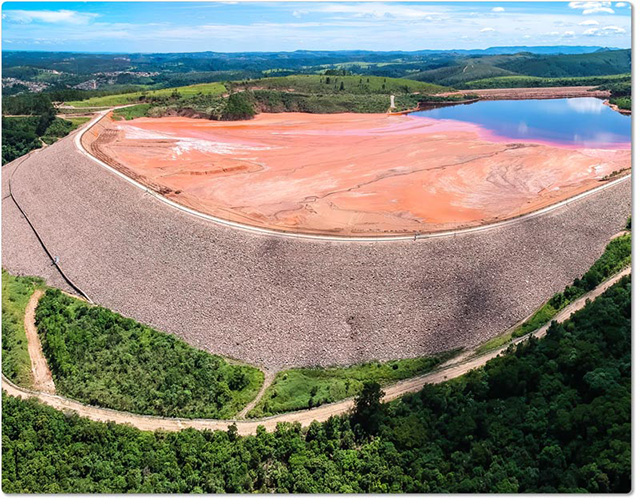 Tailings Storage Facilities management presents significant challenges and risks for mining companies, many of which rely on globally distributed and often highly remote operations systems. Due to the inherent risk, mining companies are required to monitor these dams closely for signs of instability.
Scalable, global InSAR measurement and monitoring is the ideal solution to detect abnormalities at these critical locations to prompt rapid evaluation and response.
By remotely visualizing these assets, mining companies can increase stakeholder confidence, reduce reputational risk, and mitigate environmental and humanitarian impacts.
Harness earth observation data to revolutionize the mining lifecycle.
Talk to an expert to learn how Descartes Labs can grow your business.